Navigating the Condo Market in Saskatchewan: What You Should Know
By
Scott Tremblay
on
Monday, September 18, 2023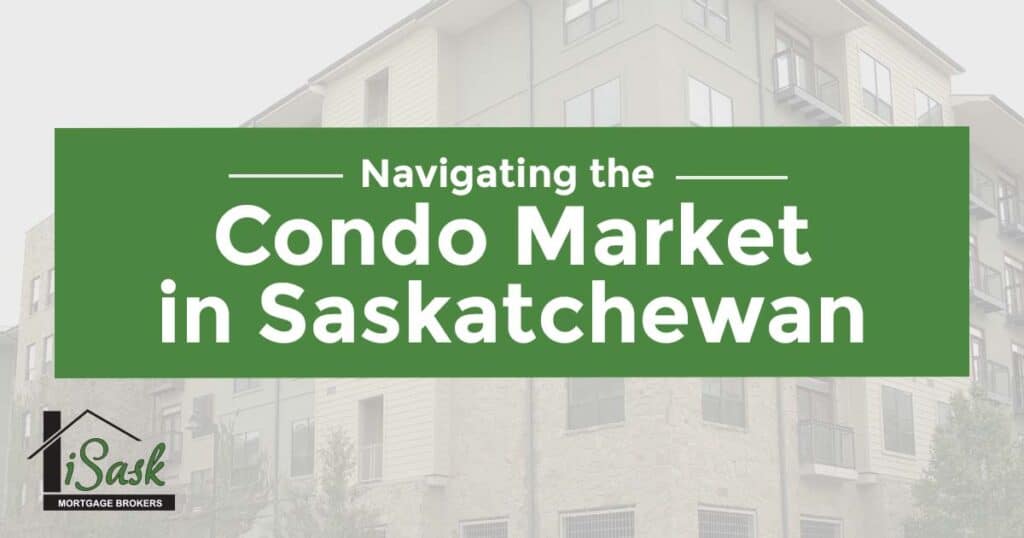 The condo market in Saskatchewan is expanding rapidly, offering potential homeowners opportunities to get into the real estate market at a more affordable price point. However, navigating this market can be a bit challenging, especially for first-time homebuyers. Before diving into the condo market in Saskatchewan, it is important to do some research to better understand all the challenges. Here are some key insights from a Mortgage Broker in Saskatchewan:
Understanding Condo Fees
Condo fees are an additional expense either monthly or yearly. These fees cover things like common area upgrades or repairs, utilities, insurance and reserve funds for future upgrades. It is important to know how much the fees will be when considering a condo purchase.
The Reserve Fund
Condo corporations in Saskatchewan require a reserve fund for significant repairs and upgrades. Knowing the status of the reserve fund is essential. A decent reserve fund suggests proper financial management and helps to cover a large portion of any unexpected expenses. A reserve fund that is quite low may be worth looking into more closely to avoid risk of larger financial requirements down the line. Larger condo corporations are required in Sk to have a current reserve fund study which can help determine if the reserve fund is sufficient.
Condo Bylaws
Each condo corporation has a set of rules that every owner and occupant must abide by. These rules often cover things like pet ownership, rental stipulations, parking, unit alterations and use of common space. Bylaws of a certain condo corporation may not align with everyone's lifestyle or preferences, so be sure to review them prior to purchasing a condo.
About the Location
As with most real estate purchases, the location of the condo can greatly impact not only the current pricing but its appreciation rate and potential rental income for investors. Choosing a location that is close to a city or hub can help to increase its future value. Location also impacts the safety and livability of the condo, so researching the neighbourhood for things like crime, amenities and schools is a beneficial time investment.
Potential Appreciation
The appreciation potential of a condo is based on several factors including location, age of the building, included amenities, past and future upgrades, management style and development in the area. If the condo is purchased as an investment, having these metrics available can help to make an educated assumption on the trajectory of the condo value.
Insurance Insights
The condo corporation's insurance typically covers the building's exterior and common areas. It does not, however, cover the individual units. It is therefore beneficial to know the coverage boundaries between the corporation's insurance coverage and the requirement for an individual's insurance coverage.
Rental vs. Owning
When considering purchasing a condo, it may be beneficial to understand a building's dynamics. For instance, buildings with a higher ratio of rental units may have a higher turnover rate of occupants, giving it a different community feel.
Mortgage Nuances
Unless there is sufficient cash on hand to buy outright, a mortgage is a necessary step to purchasing a condo. Different lenders may have unique criteria for considering condo mortgages, especially if the building has more than one purpose, such as commercial space. Speaking with a mortgage broker can help provide more information and strategies for finding the ideal mortgage solution.
Future Developments
Since a property's value can be positively or negatively impacted by future developments nearby, it is always advisable to be aware of any planned changes to the neighbourhood and surrounding areas.
Due Diligence
When considering purchasing a condo, ensure that everything is covered by performing some due diligence. Start by scheduling a professional inspection to better understand the current condition of the unit and build to be aware of any issues that may arise in the near future. Review the bylaws, meeting minutes and any documentation from the condo corporation to be sure the requirements are understood. Make sure to take some time to walk the entire property to better understand the dynamics and get a feel for the place. These steps can help prevent frustrations and disappointments in the future.
The condo market in Saskatchewan presents both investment opportunities, an entry point for first-time buyers, or a low maintenance lifestyle. Thorough research and expert consultation are key to navigating potential pitfalls. For those ready to embark on the condo journey, the iSask mortgage team is ready to assist. With our extensive knowledge of Saskatchewan's real estate, we can help to streamline the buying process for everyone, whether it is a first home purchase or a 5th investment property. Reach out to us to start a discussion today.
Stay Informed
Get mortgage & home ownership tips delivered straight to your inbox
Recent Posts