How Much Will it Really Cost to Buy a House?
By
Scott Tremblay
on
Friday, August 27, 2021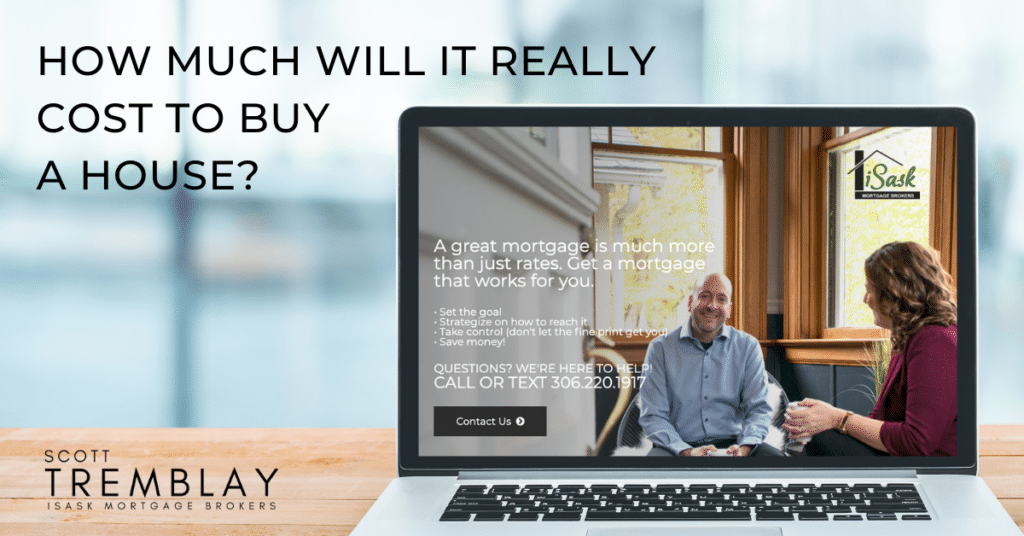 ---
Once you have figured out the home price range you can afford and the type of mortgage you qualify for, you will need to calculate the associated costs of the transaction to make sure you are financially ready.
Here is a list of some UPFRONT COSTS to plan for:
Mortgage Loan Insurance Premium. Mortgage Loan Insurance Premium. If yours is a high-ratio mortgage (less than 20% down payment), your lender will require mortgage loan insurance. Your lender will add the mortgage insurance premium to your mortgage. In Saskatchewan, you will have to pay 6% PST on insurance premium out of pocket.

Appraisal Fee. Your mortgage lender may require that the property is appraised at your expense. An appraisal is an estimate of the value of the home. The cost is usually between $300 and $450 and must be paid when you contract for those services.

Deposit. This can form part of your down payment and must be paid when you make an offer to purchase. This cost varies depending on the area and it can range from $1,000 upwards.

Down Payment. With mortgage loan insurance from CMHC, you can own your home with as little as a 5% down payment. At least 20% of the purchase price is required for a conventional mortgage.

Estoppel Certificate. This applied if you are buying a condominium or strata unit and could cost up to $100.

Home Inspection Fee. CMHC recommends you make a home inspection a condition of your offer to purchase. A home inspection is a report on the condition of the home and generally costs around $500 depending on the complexities of the inspection. For example, it may cost more to inspect a large home or one where issues such as moisture problems, pyrite, radon gas or urea-formaldehyde are suspected.

Land/Title Registration Fees. The cost is a percentage of the property's purchase price. In Saskatchewan it is 3% of purchase price and $150 to register the mortgage.

Prepaid Property Taxes. To reimburse the seller if they prepaid property taxes.

Property Insurance. The mortgage lender requires this because the home is security for the mortgage. The insurance covers the cost of replacing your home. Property insurance must be in place on closing day.

Water Tests. If the home has a well, you will want to have the quality of the water tested to ensure that the water supply is adequate and the water is potable.

Septic Tank. If the house has a septic tank, it should be checked to make sure it is in good working order.

Legal Fees and Disbursements. Must be paid upon closing and cost +/- $1,400.

Title Insurance. Your lender or lawyer may suggest or require title insurance to cover the loss caused by defects of title to the property. Title insurance is +/- $200
Click the link below learn more about our Home Buyer's Guide, where we breakdown the entire process for you so you are ready!
Stay Informed
Get mortgage & home ownership tips delivered straight to your inbox
Recent Posts